Import your DB
Note: your DB must be in CSV UTF-8 format and the number of columns must match the number of variables in the video.
Click on BROWSE in the IMPORT tab to import your file

Once the import is complete, in the popup that appears, match the name of each of your columns with the corresponding variable.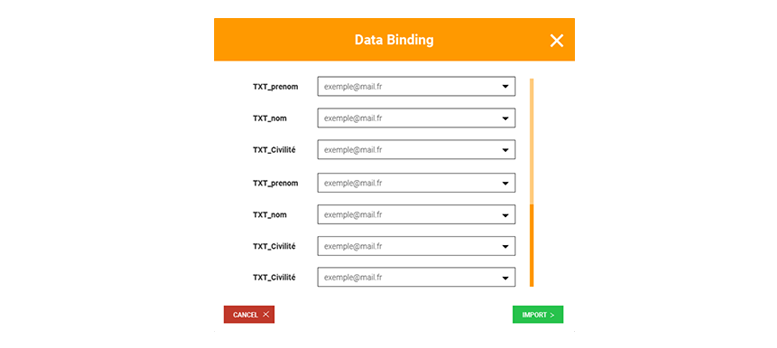 Then click on the NEXT STEP button at the bottom right and launch the render with the RENDER button.
Anonymize your database: you just have to put unique identifiers for each email in your database. After exporting your videos to the platform, you will obtain a file containing the information of the personalised videos for each contact. You will then just need to consolidate the file with the unique identifiers and your database. This will allow you to find the emails associated with each contact.
Import a single contact
Importing a unique contact In the CONTACT tab click on the ADD button.

Enter the email address of your contact and click on SAVE.

In the popup that appears, fill in the different variables, clicking on SAVE each time to save your data.
Then click on the cross at the top right to close the popup and return to your contact list.
Your new contact has just been saved!
Delete a contact
Deleting a contact Click on the information icon of the contact you wish to delete.

In the popup that appears, click on the DELETE button.
Your contact has been deleted!
Note: you cannot re-import an existing contact. Delete your entire contact list by clicking on the DELETE ALL button and then re-import your DB to update your modified contact list.