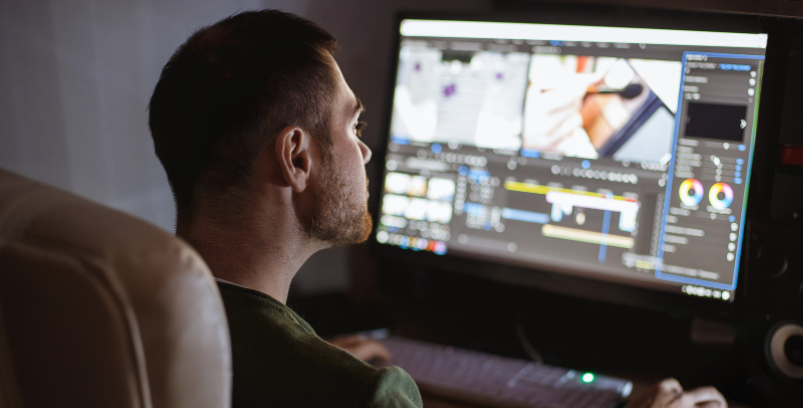 Why is motion design the most important tool for your digital communication?
Why is motion design video considered one of the most powerful tools in digital marketing?
A good communication strategy is essential for a company to prosper. It allows you to get your message out effectively. In this article, we will show you that motion design video is a format that is not only visually innovative but also very effective from a marketing point of view to synthesize ideas and convey any type of concept in a catchy and engaging way.
Your prospects and customers expect you to offer them video content:
People retain 95% of a message shown as a video, compared to 10% of a text read.
Internet users share 1200% more animated content than text and image combined.
85% of consumers said they wanted to see more video content.
A website with a video on the front page is 53 times more likely to be on the first page of Google.
Animated content generates 300% more traffic, which generates a much greater return on investment than other forms of communication.
Users view pages with video content 2.6 times longer than pages without. It is estimated that 82% of internet traffic will be used for video by 2021.
What is motion design?
Motion design is the English term for animated graphics. It is the animation of text, shapes, colours and illustrations to tell, explain and communicate through video. Motion design is the art of transcribing a message, an idea, a promise or other into moving images.
What is the purpose of motion design?
Attracting attention
Several studies show that some people are more "visual" and memorise information through what they see. This can be an image, a graphic or something else. Other people are more 'auditory' and remember best what they hear. Video encompasses sound and image. It can therefore capture the attention and convey a message to both categories of people. Better still, by using motion design animations, you are sure to reach the greatest number of people.
Promote customer engagement
A customer who understands and remembers is much more likely to become a highly engaged customer of your product/service and/or brand.
Today, most people are visually inclined. In other words, they watch more videos to get information. Information that does not include video footage is no longer appealing. In this world, companies are increasingly obliged to use motion design animations. It is a safe and effective way to convey a message, whether technical or not. Motion design animations are very easy to remember.
Moreover, it has been proven that a web user only retains 10% of a message read. The same message will be better retained through motion design animations than through text. Companies should use motion design in order to retain the memory of their customers.
Motion design video explains a concept clearly, succinctly and visually, and makes technical language easier to understand. This visual communication helps to convey clear ideas and motivate targets to take action.
Reduce message time
This encourages the rapid transmission of the message (3 minutes maximum) and uses a pedagogical means that facilitates understanding.
Distracting Internet users
Motion design video has the advantage of being educational, fun, viral, dynamic and easy to set up.
Boost your business
Motion design is a way for companies to prospect for business. In France alone, six out of ten cybernauts watch a video on average on a daily basis: a crucial fact for companies, which understand the interest in using video animations to promote their business. Thanks to its playful and engaging nature, motion design video can be used to boost customer acquisition, build loyalty, encourage cross-selling or even provide self-care.
Meeting your requirements
Motion design also allows the use of the client's graphic charter, and therefore harmonises the project with the client's corporate image.
Optimise your communication budget
Motion design only involves a small team, which can include just one motion designer, unlike traditional video, which requires the presence of a cameraman, one or more actors, a video editor, etc. And a smaller team logically means a lower cost.
Similarly, the time spent making a motion design animation is much less than the time it takes to shoot an advertising film. This greatly reduces the cost of making a full motion design animation.
When we know the impact of motion design videos, why not increase it tenfold by customising them with your customer data?
Motion design for personalisation
Now that the value of motion design video is clear, let's look at the challenge of personalising customer relations.
Personalisation is a marketing strategy that consists of contextualising experiences, messages and offers according to the characteristics of the customer. It consists of offering a unique customer experience, singular and adapted to the customer profile. The personalisation of the customer relationship takes place in a context of changing uses where requests are ever more numerous and where the digitalisation of the relationship is ever stronger. In this context, the personalisation of the relationship, i.e. the need for a customer to be considered in his or her uniqueness, responds both to a basic expectation of customers and to a challenge of differentiation.
Vidata uses the impact of motion design combined with the power of personalisation to enable you to considerably improve the effectiveness of your communication.
Allianz, one of the world's leading insurance companies, wanted to improve customer onboarding and increase the multi-equipment rate through video. Allianz decided to use personalised motion design video to meet these two objectives.
Here is the personalised motion design video sent to each new Allianz customer:
Thanks to this format, Allianz customers are more engaged. They are attracted by the animation, the storyline and the personal information about them, which increases their level of satisfaction.
Send!